loading...
Synopsis
In August 2015, an ISIS terrorist boarded train #9364 from Brussels to Paris. Armed with an AK-47 and enough ammo to kill more than 500 people, the terrorist might have succeeded except for three American friends who refused to give in to fear. Stone was a martial arts enthusiast and airman first class in the U.S. Air Force, Skarlatos was a member of the Oregon National Guard, and all three pals proved fearless as they charged and ultimately overpowered the gunman after he emerged from a bathroom armed and ready to kill.
Synopsis Indonesia
diadaptasi dari sebuah kisah nyata tentang tiga orang pria biasa yang berubah menjadi bak sesosok pahlawan dalam perjalanan kereta di Thalys, Perancis. Peristiwa nyata tersebut terjadi pada tanggal 21 Agustus tahun 2015. Pada saat itu terdapat serangan teroris di dalam sebuah kereta yang berhasil digagalkan oleh tiga pemuda tangguh yang ingin menuju Paris.
Disisi lain cerita film ini mengikuti kisah tentang kehidupan sekelompok pemuda yang terdiri dari tiga orang. Banyak sekali kejadian susah maupun senang yang mereka lakukan bersama-sama sejak kanak-kanak hingga dewasa. Persahabatan mereka yang sangat kuatlah dapat membuat tiga pemuda tanggu tersebut berhasil menyelamatkan lebih dari 500 penumpang di dalam kereta Thalys, Perancis.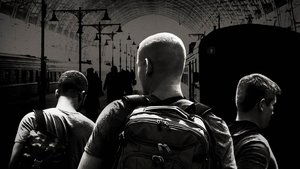 Original title
The 15:17 to Paris
IMDb Rating5.1 5.521 votes
TMDb Rating5.1 173 votes