loading...
Synopsis
A newly reunited young couple's drive through the Pacific Northwest turns into a nightmare as they are forced to face nature, unsavory locals, and a monstrous creature, known to the Native Americans as Oh-Mah.
Synopsis Indonesia
Setelah mengambil suaminya Maxwell (Andrew Joseph Montgomery) setelah dibebaskan dari Penjara Negara Patterson, Ashley Carr ( Casey Gagliardi ) berhenti di sebuah pompa bensin di tepi jalan. Di dalam, petugas toko Nickel Pete bersikeras kepada sheriff bahwa orang hilang yang terjadi disini terkait dengan Oh-Mah, inkarnasi asli Amerika Bigfoot.
Terganggu oleh argumen atas perkawinan mereka yang bermasalah saat mengemudi melalui hutan terpencil, Ashley memukul seorang pria yang diserang di jalan. Saat Ashley menelepon 911, Oh-Mah melempar batu yang menjatuhkan Max ke jurang air. Ashley menyelam setelah Max untuk menyelamatkannya dari tenggelam dalam jeram yang mendorong pasangan itu ke hilir. Oh-Mah mendorong kendaraan Ashley keluar dari jalan sebelum menyeret tubuh pria yang dianiaya.
Sheriff menemukan mobil yang rusak dan jejak darah saat tiba di tempat kejadian. Setelah mengidentifikasi penumpang kendaraan, seorang deputi menyarankan kepada sheriff yang skeptis bahwa mungkin ada keterlibatan Oh-Mah. Deputi lebih lanjut menunjukkan bahwa sheriff berkonsultasi dengan penyihir yang dikenal sebagai 'The Whispering Woman' yang tinggal di hutan dan juga menemaninya ke upacara peyote untuk teman mereka Verna Six Trees.
Setelah menghabiskan malam di depan api, Ashley dan Max memulai keesokan paginya dengan berjalan melewati hutan untuk kembali ke jalan. Max dan Ashley bertemu BD dan para pemburu yang mengejar mereka. Setelah para pemburu melecehkan pasangan, BD akhirnya setuju untuk membantu dengan mengawal mereka kembali ke truk mereka.
Ketika para pemburu terus melecehkan Max dan Ashley, BD mengirim Eze setelah Gordy dan Critter ketika mereka pergi sendiri. Oh-Mah muncul dan membunuh Critter dan Gordy dengan menembakkan panah ke mereka. Oh-Mah kemudian mengejar Eze dan membunuhnya dengan kapak. Apakah Oh-Mah akan membunuh Ashley dan Max juga?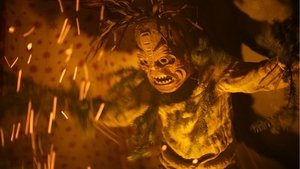 Original title
Primal Rage: The Legend of Oh-Mah
IMDb Rating5.0 votes
TMDb Rating5 8 votes